Quartz The Master Crystal That's Perfect For Beginners!
Disclaimer, If you are suffering from any medical issues, you should always consult a medical professional first.
If the Allure of Crystals has intrigued you? And you're looking for a great gemstone to start with; well, let me introduce you to Quartz.
The name Quartz is derived from the Greek word for Ice. This worldly mineral is widely available, making it incredibly accessible for those wanting to start their Crystal journey or add to an already growing collection. Quartz is comprised of 2 of the most abundant chemical elements found on Earth 🌎 namely Oxygen and Silicon. Atoms of these elements bond together, forming tetrahedrons (three-sided pyramids) which stack together to build Crystals.
Chances are, if you're already into crystals or gemstones? Then I would hazard a guess that you already have a piece of Quartz in your collection. In this post, I will share with you 3 reasons why Quartz is a master Crystal and perfect for beginners!
For the purpose of this post, we will be concentrating on clear Quartz,
Associations
Planet – Sun
Element – All
Chakras – Crown
Zodiac sign – Leo
Hardness – 7
Deposit – Worldwide
Cleansing and Purification – Clearwater, Salt, Sunlight, Sage, Palo Santo, Intention
Many people are drawn to gemstones. For some, it's their beautiful and unique looks. Or a strange energetic connection; for others, it's for healing. Whatever your reason, when it comes to crystals, Clear Quartz is a good place to start; As it can be used for all occasions.
So what are Crystals?
Also known as Gemstones, they are natural elements from Mother Earth, and Quartz is one of the most powerful and abundantly found.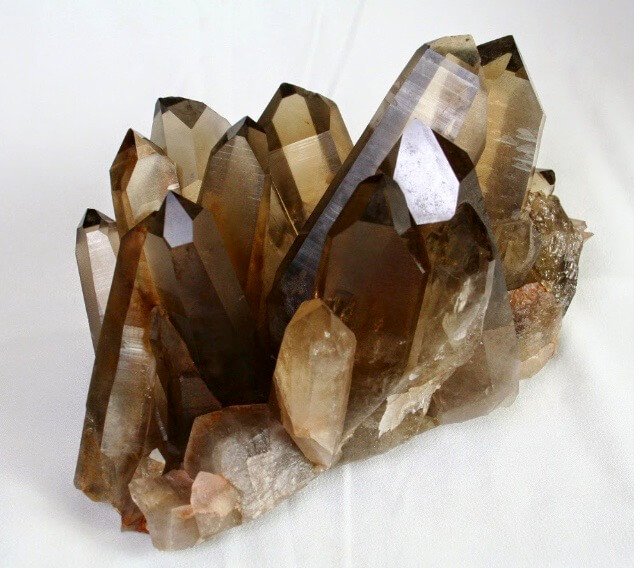 1. Master Crystal For Raising Spiritual Awareness
Quartz!
Due to its molecular structure, this powerful energy-amplifying and healing stone can effortlessly Balance, Absorb, Store and Release all kinds of energies, vibrations, and frequencies. Clear Quartz is an excellent amplifying stone. It will take whatever energy it comes into contact with and amplify it. This beautiful gemstone can be used for healing modalities such as Reiki to amplify the energies. It's also great for amplifying other Crystals and, as a result, is great when used for Grids; as an all-rounder, it is an absolutely fantastic crystal to work with.
I personally enjoy using my quartz when Meditating as Quartz can reset and balance your energy system. Vibrationally, it can work as a deep soul cleanser connecting the mind with the none physical, energetic dimensions.
Clear Quartz is a fantastic gemstone to help with clarity on your spiritual journey. It helps clear blockages and amplifies your omnipresent spiritual energy. As a transmitter and teacher, Clear Quartz can help people direct energy to be in alignment with their true purpose.
Remember, the size of the Quartz does not hold any significance! Working with Clear Quartz can help stimulate the third eye and amplify inner vision. Clear Quartz also helps you realize and strengthen your always present and natural connection to the Divine; it expands your consciousness and attunes you to Universal Life Force Energy.
2. The Master Healer
When it comes to Gemstones, Quartz is known as the Master Healer; and can be used for a variety of physical complaints. Program your Quartz and set your intention. Because of its powerful nature, Clear Quartz can be used on the whole Chakra System to balance and harmonize.
It clears all blockages and transmutes negative energies allowing vital energy to flow without constraint. Tip! Add clear quartz to your bottled water, set a powerful healing intention, visualize a healing white light working on every molecule of the water ⚛ and create a powerful elixir that will cleanse your soul and leave you feeling refreshed. Remember you can program Water, so use this powerful amplifier to your advantage ⚛️
Check out this interview with Dr Masaru Emoto for more information on this topic!
3. The Master Of Energy Work
Clear Quartz really shines when it comes to Energy work; it's Amazing simply because it does it all.
It Absorbs, It Transmutes, it Enhances. It is an Energy Master;
Tip! Silence the mind 🧘🏽‍♂️🧘🏻🧘🏼‍♀️ tune into the frequencies, release all thought and allow this amazing Gemstone to work on an energetic and spiritual level. Clear Quartz also protects your Spirit from negative energies and clears the air of electromagnetic smog, so it's great to place around the home, especially in your meditation space.
Whether you're a beginner or experienced, Clear Quartz is a fantastic Gemstone and an amazing gift from The Source. I regularly used it, and I feel truly blessed to have this amazing stone so readily available when I need that Crystal Connection!
Remember, Everything Is Energy Stay grounded, stay tuned and Be At 🌍ne!
Love, Light and Unity ⚕️❤️